Choose our EZ Pay Program to budget your fuel needs.
EZ Pay Program: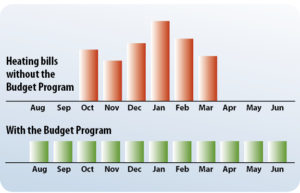 Our easy payment plan starts in July of each year and ends in June of the following year. This helps to spread your payments over twelve months.
The monthly payment amount is based on propane deliveries for the prior year from July to June. We take the total of these deliveries and divide by 12 to arrive as the easy payment amount for the current year. The easy payment amount is due the 10th of each month for 12 months, starting with a payment on or before July 10th and ending with a payment the following June 10th.
If you miss the start date of July 10th, but still desire to take advantage of the EZ Pay Program, you may start at a later month, provided you are current on your account and include a payment with your EZ Payment Program Authorization Form as follows: check for the payment for the month you missed since the July 10th start date, less any amounts paid on the account since July 10th. Our office will assist you with the calculation of the initial payment and monthly payment amounts.
If two or more monthly payments are missed, the EZ Payment Program will be considered past due. The account will be converted to be due net 20 days from delivery for all future deliveries. If there is a past due balance on the account, the account will be converted to Cash Before Delivery status.
The settlement of the account will then occur on or before June 10th. If there is a balance due on the account, you will be billed for the outstanding amount due. If you have paid more than the cost of deliveries to your account, you will receive a refund check or will have the option to apply the credit to the following season. You will receive 2% interest on money in your account.
Call or fill out the form below for more details.